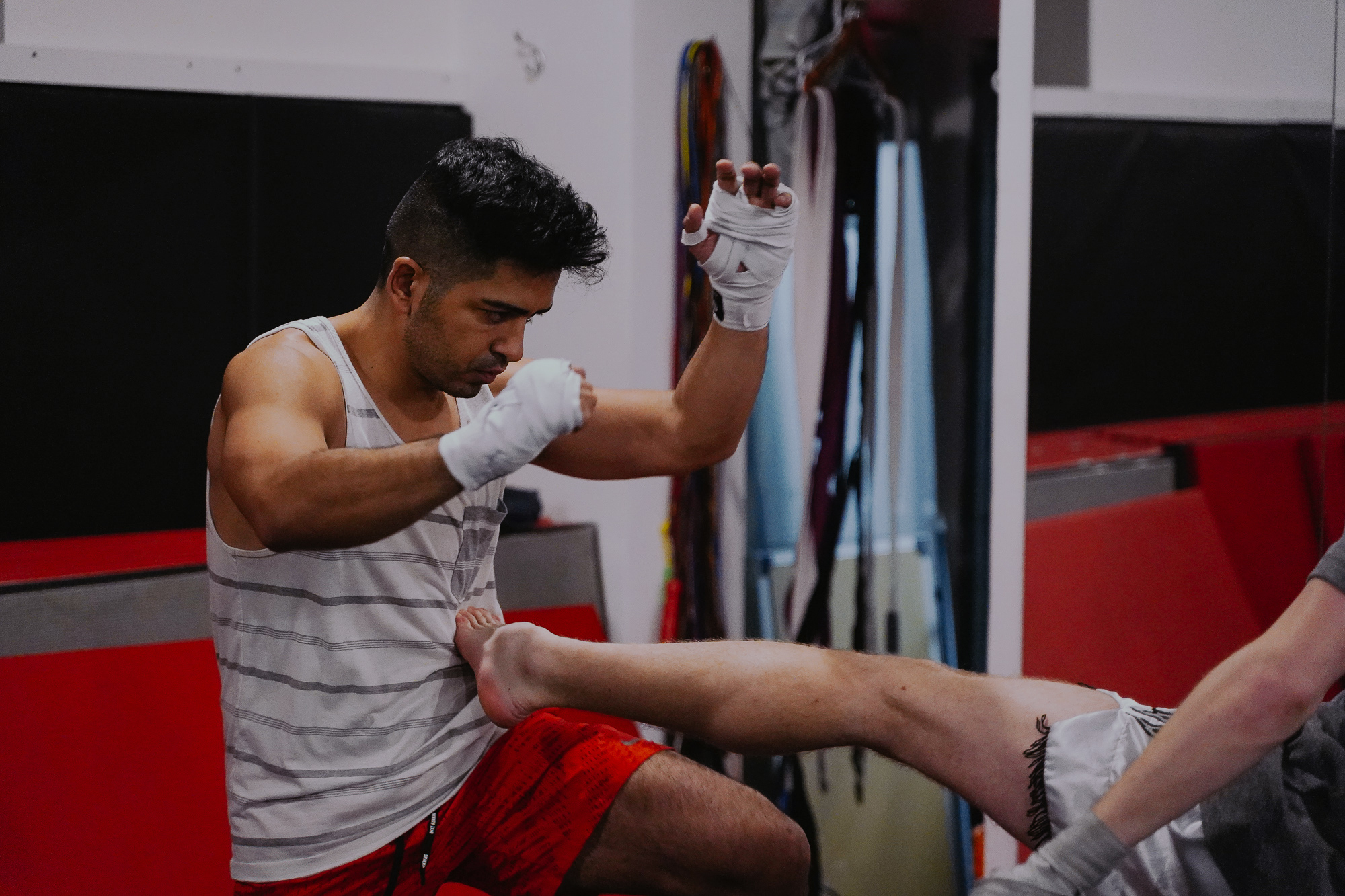 All Levels Muay Thai
Ready to level up your Muay Thai skills in Toronto? Our All Levels class is for students who have passed the yellow shorts test or have a good amount of training experience. It's designed to sharpen your Muay Thai skills and push you harder mentally and physically. At Montrait Muay Thai, we conduct four 60-minute All Levels classes every week on Wednesdays, Thursdays, and Saturdays. It started with a brief warm up of skipping and shadow boxing. 
During the 60-minute class, you'll learn:
– Self-defence skills 
– Intermediate to advanced pad work 
– Full body strength and conditioning 
– "Give and take" by performing drills with a partner
Benefits of Muay Thai 
– Improved cardiovascular health 
– Increased core strength and leg strength 
– Better hip mobility 
– Helps with stress, anxiety, and depression
– Improved focus and mental clarity 
Recommended Muay Thai Gear 
– Shin pads
– Hand wraps
– Gloves 
FAQs 
How long does it take a beginner to become an intermediate?
It completely depends on how many times a week you want to train, and how focused you are on advancing. On average, it should take you 3-6 months to advance into the next level. You will have to go through the yellow shorts test and when you pass, you graduate to our All Levels call. The key is to be consistent, patient, and enjoy every part of the progress. 
How many times a week should I train for advanced Muay Thai in Toronto?
We recommend anywhere between 2-4 classes every week. Since you already have the bases covered, our instructors will help you identify areas you'd need to focus on. 
Do you offer a trial class?
Hi there! Yes, we do! Our trial class costs $30 for adults. You'll receive a complementary pair of Muay Thai hand wraps when you book a trial class with us. Follow us on Instagram to get access to last-minute offers including free classes! 
Does the gym have a shower or change room?
There are change rooms and showers available, but you must provide your own towel, toiletries, and shower slippers. Non-gender signed washrooms are also used as a place to change if one prefers privacy. Please be respectful of other students and do not use cologne, perfume, or aerosol sprays in our shared space.
What happens if I can't make it to the class?
Students are encouraged to book in advance to their All Levels Muay Thai class through the website or app. Morning classes require advance booking to help instructors prepare and accommodate the schedule. Morning students should directly contact the instructor if there is an emergency cancellation. If you are just running a few minutes late, you are still welcome to join the class! Students who consistently book and no-show may still be required to pay for the class. Our schedule is always available online.